WELCOME TO VERTIQLÈ FASHION
After eighteen successful issues of Vertiqlè Magazine, we decided it was time to dedicate an entire magazine each month to celebrating fashion in black and white.
In today's age of saturated colours and instant filters, the humble black and white photograph is often overlooked – particularly when it comes to fashion. 
The fast fashion industry have us trained to think in colour only. We're told which colours are in this season and which are out.  We don't care for texture, we don't care for the feel on our skin.  We assume generic patterns and mass produced colours will make us unique.  We're told to ignore the poisons, toxins and waste that comes from living in this overly saturated, colourised world.
In the opening scene of the documentary RiverBlue,  deep magenta wastewater spills into a river in China as the voice of fashion designer and activist Orsola de Castro can be heard saying "there is a joke in China that you can tell the 'it' colour of the season by looking at the colour of the rivers."
FASHION IN BLACK & WHITE
Photography and fashion have gone hand in hand ever since the former was invented – and in the considering the history of photography, commercial colour is still something of an adolescent when compared to black and white.
At Vertiqlè, we have a deep appreciation for black and white imagery.  It requires a greater level of awareness. It leaves space for the viewer to interpret an image, and that allows imagination to enter the process.  Colour on the other hand leaves very little to the imagination. There it is. No imagination is needed.
Carefully developed and directed black and white fashion imagery is no different.  It provides a greater depth of feeling and a wider frame for emotion.  It's why major fashion houses such as Celine routinely employ black and white in their commercial campaigns.  In 2017, Balmain's creative director, Olivier Rousteing, directed and photographed that fashion marquis' first recent black and white campaign of the modern era.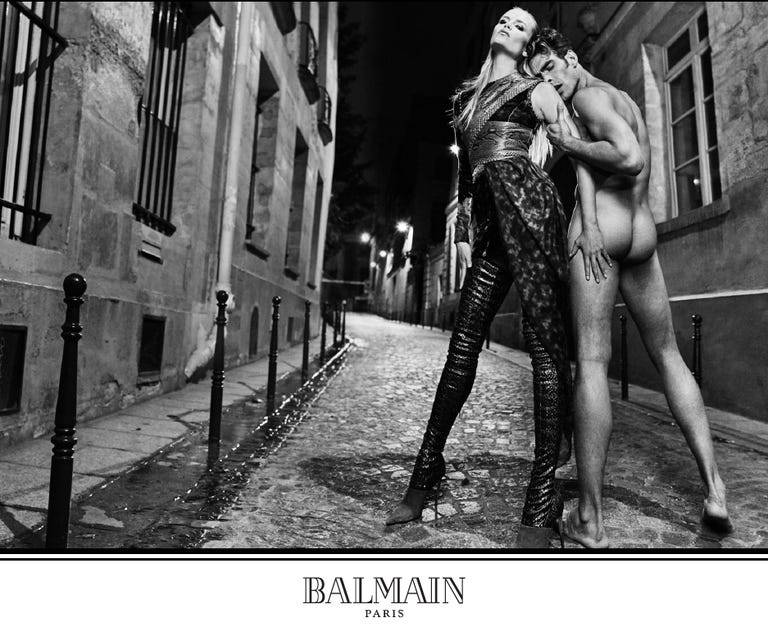 The incredible images were shot in and around Paris, and despite the direction of the young Rousteing, there's a definite influence of the masters of yesteryear.  The full campaign can be seen in Harper's Bazaar.
Whether it was Richard Avedon shooting for Dior, Helmut Newton shooting for Chanel, Herb Ritts shooting for Versace, or Rousteing shooting for Balmain, there is no doubt that black and white had and still has, a very real place in fashion.  It brings a level of elegance that simply cannot be matched in colour.
ENJOY!
We've set the bar quite high in terms of what's in and what's not.  Each month our editors seek out editorials from around the world, looking for that special element that makes a great black and white fashion image.
We hope you enjoy the elegance that is black and white fashion photography.
---